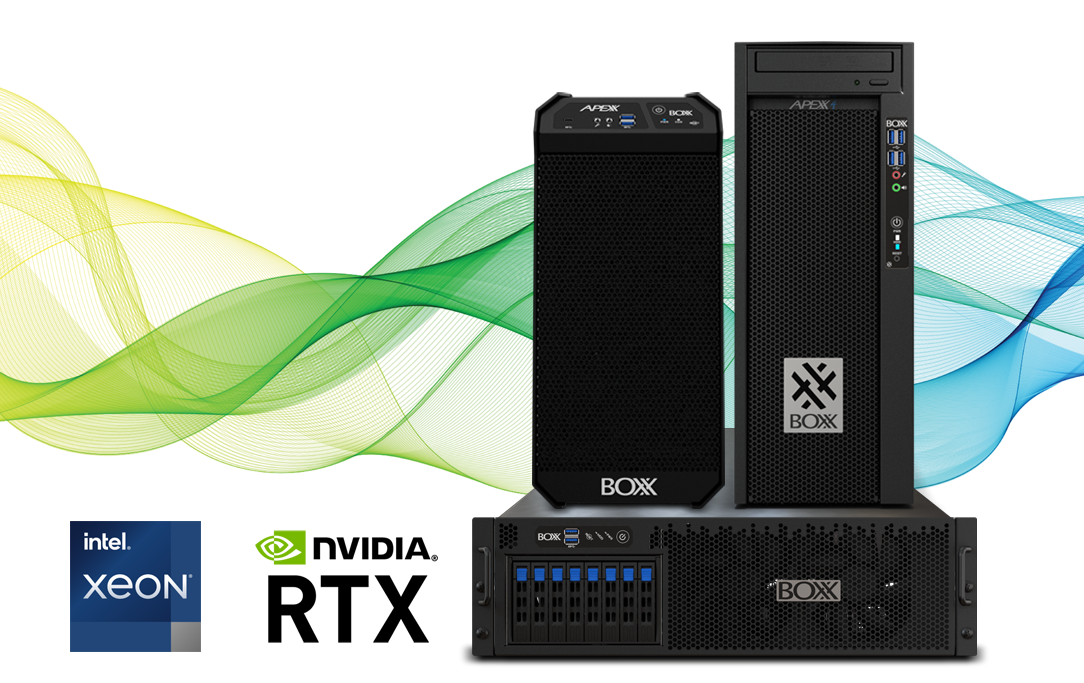 New Intel® Xeon® W series processors (code name: Sapphire Rapids) have arrived to great fanfare, so let's take a look at the new features and what they mean for users of this Intel CPU technology.
The new processor core architecture provides up to 46% higher performance over the previous generation CPUs and is built for increased scalability. Another notable improvement is the new Intel® 7 Process Technology which offers a significant performance increase per watt, i.e., more efficient use of power. There's also L2 Cache and L3 shared Intel® Smart Cache which is helpful for CPU-bound tasks. For sequential workloads like modeling, the speed at which instructions can be completed is limited in part by the size of the cache (which can be described as ultra-fast memory stored on the CPU). A larger cache lowers the number of times a CPU must look to RAM or hard drives to retrieve instructions, which also requires additional time. Since time is money, seconds matter and a larger cache equals better performance.
Speaking of performance, the lead story is an increase in the amount of processing cores. While the previous generation featured up to 38 processing cores, the new Intel Xeon W-3400 series processors are equipped with up to 56 cores (112 threads) in a single socket, which is critical for highly threaded software applications (very common in media & entertainment workflows), and tasks like visualization, simulation, and rendering (found across all industries including 3D CAD) which take advantage of multiple CPU cores.
Now let's talk about platform improvements. The most notable features here are eight-channel DDR5 ECC RDIMM (up to 4800MT/s) for up to 4TB of memory support and CPU PCIe 5 up to 112 lanes. For the record, that's twice the bandwidth of PCIe 4.0. More lanes enable more support for peripheral devices like video cards, a network controller, data fabric controllers, etc.
Another pair of key features found in the new Intel Xeon W processors are Intel Turbo Boost Max technology 3.0 (providing more efficient performance per processing core), and ECC memory support for protection against undetected data corruption.
BOXX has upgraded three products (two desk-side workstations and one rack-mounted system) with the new Intel Xeon W "Sapphire Rapids" CPUs. Here's a quick intro.
Multi-core, compact workstation accelerates visualization, simulation and rendering for engineers, architects, and 3D artists
• Intel Xeon W-2400 up to 24 cores (48 threads)
• 64 CPU PCIe 5.0 lanes for 2x the bandwidth of PCIe4.0
• 4-channel memory up to 2TB
• Up to two NVIDIA® RTX™ 6000 Ada Generation GPUs
High core count desk side (or rack mounted) tower delivers outstanding performance for simulation and rendering workloads.
• Intel Xeon W-3400 up to 56 cores (112 threads)
• 112 CPU PCIe 5.0 lanes
• 8-channel memory up to 4TB
• Up to four NVIDIA RTX 6000 Ada Generation GPUs
High core count rack mounted workstation dramatically accelerates simulation and rendering, and is ideal for film editing and broadcast production.
• Intel Xeon W-3400 up to 56 cores (112 threads)
• 112 CPU PCIe 5.0 lanes
• 8-channel memory up to 4TB
• Up to four NVIDIA RTX 6000 Ada Generation GPUs
For more details on BOXX products featuring the latest Intel Xeon W "Sapphire Rapids" processors, visit the links above. For expert advice, call a BOXX performance specialist at +44 (0)1256 378 044